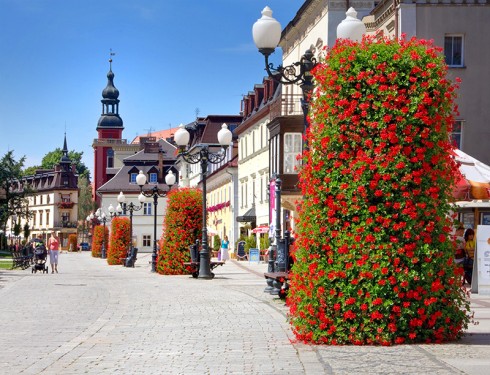 One of the most beautiful places in Dolnośląskie that is visited by thousands of tourists and health resort patients. Cieplice has been a part of the city of Jelenia Góra for a few decades. This place is widely known for its charm and a health-improving climate. Legend has it that this region was discovered by the Polish prince Bolesław Wysoki during hunting in 12th century.
Cieplice has become famous for its curative water with the temperature 86°C, the highest in Poland. A part of the treatment are the walks in amazing, natural parks. Diseases of various kinds are cured in this place, for example orthopaedic, traumatic diseases, rheumatism, osteoporosis, diseases of nervous system, kidneys and urinary tract, eye and ocular adnexal diseases.
Besides the parks full of historic architecture, tourists also visit Piastowski Square and the palace complex of Schaffgotsch family to which Cieplice had belonged for about 500 years. This area has been decorated with Flower Towers.
The centre of Cieplice is a cobblestoned square with no place for a traditional way of planting. The lack of natural accents has made this place not so attractive as it could be. Similarly to many Polish cities, this problems has been solved thanks to Flower Towers.
Problem

A colourless avenue

An ordinary square

Empty space

An ordinary town square
Cieplice has a beautiful town square but there isn't much nature. Despite tenement houses and the palace, this place seemed to be colourless and monotonous. The area was dominated by grey and beige colours.
The town square was designed as an avenue with dark benches and lamps. The whole looked aesthetic. Unfortunately, something that would unambiguously define this urban space was missing.
Solution
Municipal authorities of Cieplice have decided to choose H2400 models. These tall cascades full of red pelargonium plants have broken the domination of pastel colours in the town square and have added some contrast to the landscape.
It's been a good idea to set these constructions along the walking trail. Dark colours of benches and bins have been covered, and pedestrians feel like they walk along a floral wall. Such solution also emphasises the role of nature as the inseparable part of the landscape of Cieplice.
Google Street View
See Cieplice in flowers