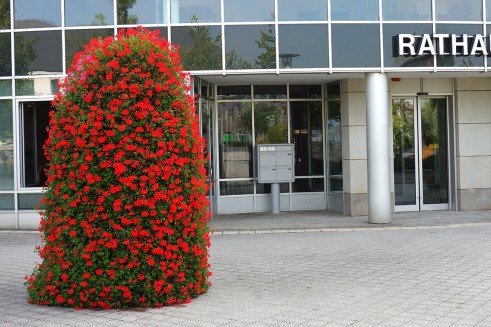 Ludwigsfelde is a small town in eastern Germany. This charming place attracts with its architecture and floral arrangement. It's worth stopping for a while and just take a look around.
Although this little town is near Berlin, the huge centre of business and parties, Ludwigsfelde may be seen as a real oasis of calm. The tourists can spend their time in an active way and take part in various open air feasts and festivals.
Ludwigsfelde is treated by many people as an escape from overcrowded Berlin. The desire of resting and the need of a contact with nature are probably the most crucial reasons for coming there. Keeping them in mind, the municipal authorities focused on arranging the town with aesthetic and floral decorations.
Problem

No access to the nature

Unattractive entrance

Empty space

An ordinary town square
Every place that is friendly to the citizens and tourists, and where time goes slower, needs nature. In Ludwigsfelde the major obstacle was the lack of natural soil in the city centre. Instead, it's covered with cobblestone. One of the most important tasks was to decorate the entrance to the city hall. The insufficient amount of place for plants requires the creation of an effective, safe and mobile urban decoration.
Solution
The municipal authorities decided for models H2400 to decorate the surroundings of the city hall. This particular construction may contain even 180 seedlings so the Flower Towers planted with red pelargonium changed this place immediately. Also the streets became more colourful and friendly.
Google Street View
See Ludwigsfelde in flowers