population 36 763
civil rights since 1255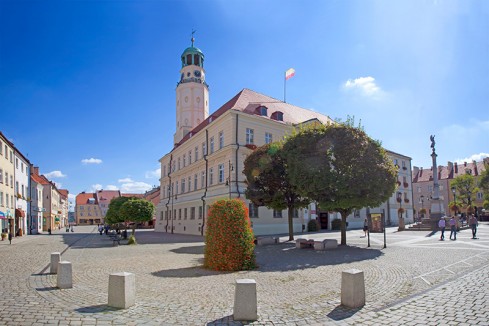 When you enter this small town on Lower Silesia, you've got a feeling like it is one of the calmest places in the world. But not the most boring ones! Olesnica is a town towards people and all the new investments and sports centres are carried for them.
Olesnica is a polycentric town. The town square is a historic-administrative centre, and the recreational centre is at the suburbs next to marvellous lakes. There is also a centre of public service next to the sports hall. The whole complex is connected thanks to the road infrastructure with new plants.
The renovation of parks and green territories is on the "to-do" list of the municipal authorities. The citizens have a contact with nature and they appreciate it. Although the biggest plans have been already been realised, it's not over yet. The citizens propose other places worth renovating. In this way Olesnica carries out their vision of a people-friendly town.
The idea of a green town is a good way to promote it. We want people who come here to stay, and the citizens of Olesnica who have chosen this town as their place, will be satisfied with their decision.
The lack of colourful accents make the city centres grey and sad. The reason is often no place for planting and the ground covered with the cobblestone just like in Olesnica.
Problem

Unattractive entrance

Greyness around the monument

An ordinary town square

No access to the ground
The municipal authorities of Olesnica wanted to decorate the town square with flowers. It was dominated by the beige facades of buildings. Although there were trees, such amount of greenery wasn't enough.
The entrance to the building merged with the facades. Its location was signed only with red signboards. However, such signing didn't allow for easy and fast finding of it.
Solution
The municipal authorities of Olesnica have decided to use three models of Flower Towers to decorate the town square. The hanging constructions W600 with red pelargonium flowers have appeared on the street lamps near the monument. The same flowers could be found in other decorations.
In order to make the entrance to the building better visible, the doors have been decorated with two models H1200 ½ fixed to the facade of the building. Huge models H2000 have appointed the corners of the town square. The whole composition is colourful and create the natural arrangement of the urban space.
Results
The constructions look great and we're satisfied with the effect. There are some things that are good when you can't see them. This is the main feature of these Flower Towers. The less of their construction is seen and the more of flowers, the better. Do they fit the urban space? I think my opinion isn't authoritative – just look and see yourself...!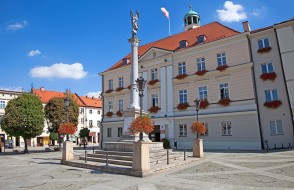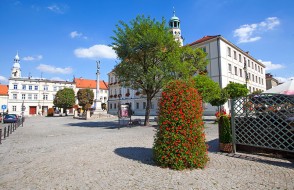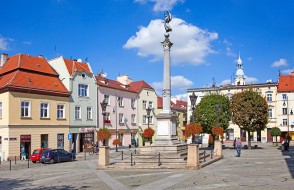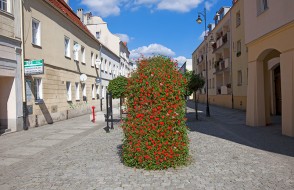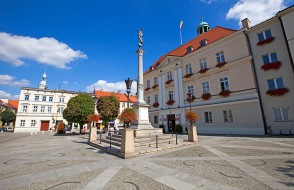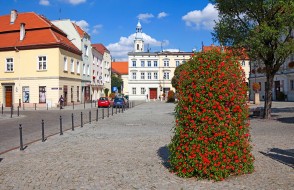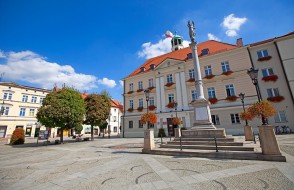 Google Street View
See Oleśnica in flowers