population 26 028
civil rights since XIII wieku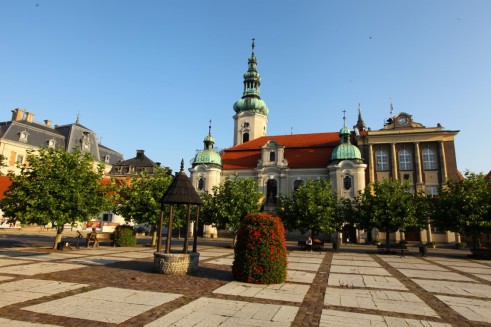 Pszczyna located in the southern part of Poland stands out because of its rich history, well-preserved historical buildings and a charming main square. The town is an important transport hub as it is situated at the crossing of the roads Katowice-Bielsko-Cieszyn and Oświęcim-Rybnik between the Beskids and the Upper Silesian Industrial District. It is only one hour drive from Pszczyna to the border crossing in Cieszyn.
Pszyczyna is famous for its open attitude towards sport enthusiasts and nature lovers. The whole region is full of tourist trails and cycle lanes. Moreover, there is also a stadium, a swimming pool and tennis courts.
The Pszczyński Park is the most beautiful place in the whole Upper Silesia. In the territory of 156 hectares there are picturesque ponds and historical monuments. The most important symbols of Pszczyna is the main town square with the stylish tenement houses, regularly planted every spring.
Although its beautiful places Pszczyna needed a little bit of greenery. It was a preety town, but with no access to flora, especially in the center of the city.
Problem

No plants

Grey Main Square

Lack of Access to Water

Problematic Place
The historic old town market square in Pszczyna is one of the best preserved places in the whole region. In such an attractive area, the only thing which missing was the nature. The surface dominated by the cobblestones did not look well. Especially, the places which lacked the plants and flowers were: the Town Hall and the Protestant Evangelical-Augsburg Church.
Solution
The way to break the monotony of the main square in Pszczyna became the standing Flower Towers H2000, which made the place without the natural substrate more attractive. A perfect addition to the tall towers are H1200 models of the Flower Towers, which gave to the heart of the town and its most important symbols, a beautiful flower frame. All the cascades in Pszczyna were planted with the effective red geranium resistant to different weather conditions.