population 44 797
civil rights since 1400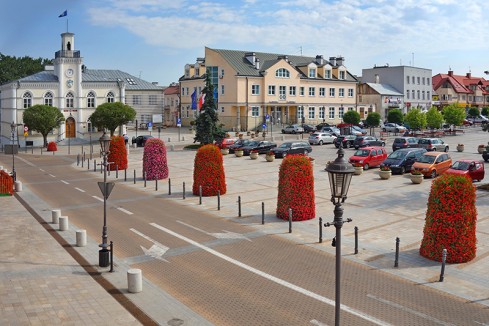 The heart of Poland, 100km from Warsaw – there is Ciechanow. The name of the town comes from the legendary founder called Ciechan.
The heart of Ciechanow is the old market with the charming town square full of cafes. The characteristic place is the bench in honour of Robert Bartold, an activist and a guide from Ciechanow.
A neo-gothic town hall is located on the John Paul II Square. This renovated square along with the town hall and the fountain are the biggest pride of the town. This wide space was decorated with Flower Towers in 2014. Two of them created a floral gate around the entrance to the town hall.
The huge place in front of the building also needed huge decorations. The municipal authorities decided for models H2400 that also separated pedestrian zone from the street.
The municipal authorities of Ciechanow have bought Terra Flower Towers in order to make the town and the old market more beautiful.
The centres of many cities have recently been renovated. The nature cannot be omitted in the process of arranging. This is the best decoration, just like in Ciechanow.
Problem

Empty space
Unattractive entrance

An ordinary square

No access to the nature
The renovated square impresses with its size. However, such wide area can be seen as empty and without its own character. This big place covered with the cobblestone occurred to be an obstacle for flowerbeds. The lack of natural ground and watering was the reason for eliminating the nature from this space.
Due to the fact that the town hall has been renovated in bright colours, the facade needed some colour accents. Such a building should has been also properly arranged.
Solution
Flower Towers appeared in the renovated town square in 2014. The decorations allowed to change the monotony of this place and the nearest surroundings of the town hall. Due to their size, they were well seen.
Such colourful flowers made the centre of Ciechnow attractive and the entrance to the town hall was accentuated. Models H1100 distinguished the building.
Wprowadzając Kaskadowe Konstrukcje Kwietnikowe do centrum Ciechanowa oraz w najbliższe sąsiedztwo miejskiego ratusza udało się uatrakcyjnić przestrzeń i ożywić zrewitalizowany rynek. Pusta przestrzeń, plac bez wyrazu, czy nieatrakcyjne wejście do budynku nie są już problemami Ciechanowa!
Google Street View
See Ciechanów in flowers