population 70 129
civil rights since 1243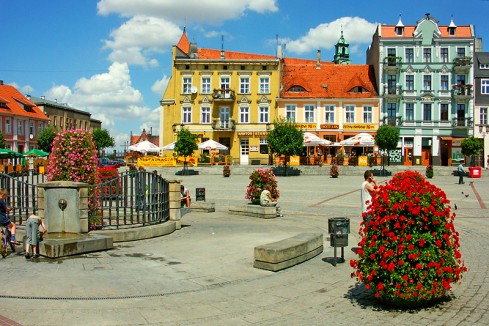 Even the youngest know that the first capital of Poland was Gniezno. This town is known for being one of the most significant places full of monuments and mementos of crucial events. This is the reason why Gniezno is visited by thousands of tourists every year.
The municipal authorities know how to take care of such a tourist town. There is a lot of events on the town square, so it has to be as representative as possible. Despite the lack of natural ground, there are many flowers. How is it possible?
The Flower Towers deliver nature everywhere, where it seems to be impossible. A good example is the town square in Gniezno. Although it's covered with the cobblestone, there are beautiful plants too. The red pelargonium stands out from the the grey surroundings. The Flower Towers have become the meeting points, giving the people the sense of direction.
Problem

Empty space

An ordinary square

No access to the nature

No colour
The big space in the city centre was lacking in nature. Although there were some trees outside the square, their greenery was dominated by the greyness of the cobblestone. Colourful tenement houses couldn't eliminate this fact.
The beautiful but empty square needed elements of urban architecture that would diminish the feeling of emptiness. In result, pedestrians could feel overwhelmed with such surroundings.
Google Street View
See Gniezno in flowers