population 31 100
civil rights since 1638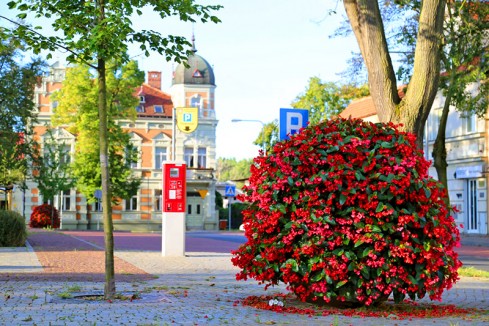 Swarzędz is a small town in Wielkopolskie state. Together with Poznań it creates Poznań agglomeration that is the one of the most developing regions in Poland.
The centre of Swarzędz consists of the town hall, historic buildings and streets and the Niezłomnych Square that was renovated in 2011. The urban space was enriched with new benches and street lamps but the most important point is a modern fountain built in the cobblestones.
The centre and the area in front of the town hall have been decorated with Flower Towers in a few hours. The domination of aesthetic greyness has been finished! The constructions have been located near the building to separate the space for cars from the pavement. Thanks to the flowers in the centre, the whole landscape of Swarzędz has changed.
The models H1200 of Flower Towers have been set in the town square in Swarzedz making the centre more attractive.
Problem

No access to the ground

Limited space

Heavy traffic

An ordinary town square
The limited space on pavements covered with the cobblestone reduced the possibility of providing flowers to the centre of Swarzędz. There were no flowers at the town square, and the Niezłomnych Square still looked monotonous despite the modern solutions. Heavy traffic and the lack of natural ground made the planting of trees impossible, so the heart of Swarzędz seemed to be colourless.
Solution
The effect of Flower Towers in Swarzędz has been exceptional. The city centre has become beautiful in a short time. The additional decorations have been the Jiflor 600 hanging baskets by Atech fixed on the street lamps. Thanks to them the urban space even above the head of pedestrians has positively changed.
Google Street View
See Swarzędz in flowers