population 69 404
civil rights since 1690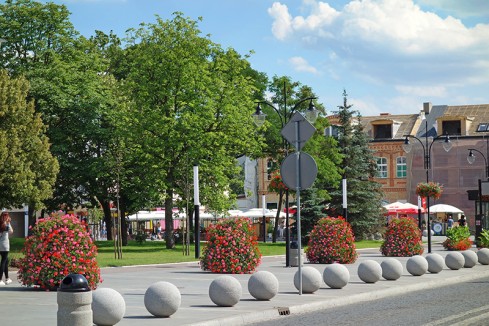 The city of Suwałki is located in north-eastern Poland, near the border with Lithuania. Due to the lowest temperatures in the whole country, it is called "the Polish North Pole".
To discover the most interesting places in Suwałki, you should go for a walk by the "Krasnoludki są na świecie" track created in honour of Maria Konopnicka, the Polish famous poet.
The atmosphere of the city has its reflection in the names of streets. The unfavourable weather conditions haven't been the obstacle for flowers planted in Flower Towers. They have become an attractive decoration of pavements and street lamps.
The decorations have been found also in the Teofil Noniewicz street, along which they have created a wonderful floral barrier. The biggest constructions have been set in the heart of the city, the square of Maria Konopnicka, so the modern fountain, benches and lamps have got a new appearance.
Thinking of making our town beautiful, we've decided for buying Flower Towers.
The streets in Suwałki didn't look impressive. Although urban space without greenery is a common problem in Polish cities, it can be easily solved.
Problem

Empty space

Greyness around the fountain

Heavy traffic

A colourless avenue
The centre of Suwałki was lacking in natural ground for greenery. Chłodna Street and the Teofil Noniewicz Street and the Maria Konopnicka Square were dominated by grey colours due to the cobblestone. The nearest area of the fountain wasn't also impressive. The providing of flowers in a traditional way was impossible due to the lack of natural ground and the proximity of a street.
Solution
Flower Towers have been located along the streets of Suwałki. Such floral decoration have allowed for changing grey avenues without limiting of drivers' visibility and pedestrians' comfort. Two Flower Towers H2400 have been designed to create a kind of a floral gate to the Maria Konopnicka Square. The hanging baskets Jiflor 600 by Atech have appeared on street lamps.
Tower Flowers have changed the centre of Suwałki. The streets and the fountain have been decorated in an interesting way – constructions have provided greenery everywhere, where it was impossible.
Results
Flower Towers allowed us to decorate the urban space in an aesthetic way. The constructions are characterised by high durability. They're also easy to fix and movable depending on the need. The decorations have positively changed the image of Suwalki and have been well received by the citizens and tourists.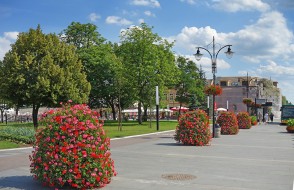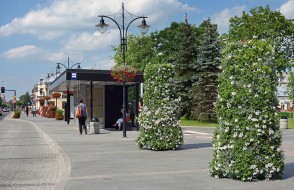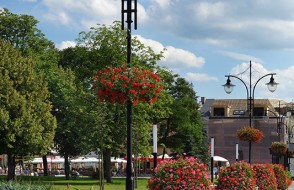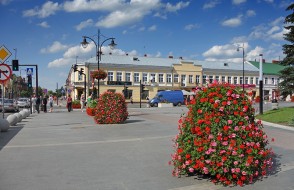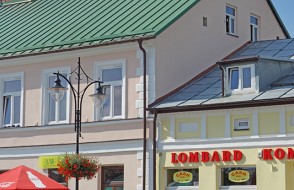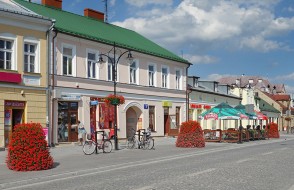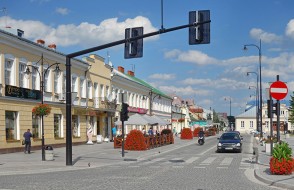 Google Street View
See Suwałki in flowers