population 21 000
civil rights since 1278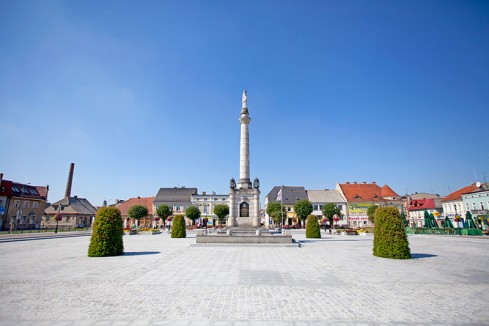 There is a town near Poznan so which is rather small but with a big potential! Gostyn is a place famous for its dairy in the whole country. Butter made in this place was eaten by Queen Elisabeth II and the pope John XXIII. The citizens of Gostyn create a civil society that cares about its little homeland. They've got their own participatory budgeting, they promote sports and take part in life of the town.
The renovation of the town square that took place several years ago, and contributed to the improvement of the citizens' lives. In the middle of the square, you can find a fountain and the Heart of Jesus Christ Monument. When the weather is good, the town square is crowded with people. Then it becomes the best place for spending the afternoon with friends and family. Pavement cafes and beer gardens are full of people.
The municipal authorities of Gostyn invest in greenery and the image of the "green town". The effects are seen in front of the town hall where the Flower Towers decorate the surroundings of the most important elements of urban architecture.
Before I saw your catalogue that got me to choose your products, I didn't know the concept of the Flower Towers. However, I decided that the effect saw in the photos was exactly what Gostyn needed.
Problem

Empty space

Greyness around the monument

An ordinary square

A problematic place
The renovation of the huge town square in Gostyn was successful but the final effect was missing some details to be made. The main feature of the town square was monotony and a lot of empty space. There were some meeting points with benches. The grey monument in the middle merged with the ground.
Urban greenery, some small trees and flowerbeds, was present only on the sidelines. This enormous empty area was lacking in flowers and natural separators.
Solution
Gostyn chose the Flower Towers with full planting, so the effect of the flourishing town was achieved in a few seconds. The hanging models W600 appeared on the street lamps and the area around the monument has been accentuated thanks to the models H2400.
The renovated town square brought a new life to its image. The space has been fulfilled with colourful flowers.
Get to know the Polish cities! Do you know where the Super Cat rules? Which town lies on 44 islands? Where is the famous dairy which products have been eaten by Queen Elizabeth II? All this information you can find in our project "Urban Stories".
Google Street View
See Gostyń in flowers