population 39 365
civil rights since 1260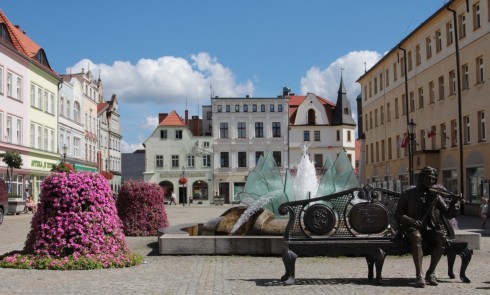 Zary is a small town near the border with Germany. However, this place is also the capital city of Polish Lusatia.
The one of its most important symbols is the bench with the G. P. Telemann posture made in 2010. It's located in the honourable place at the town square of Zary. The figure is near the fountain, historic tenement houses and small cafes. Since several years, the old market has been decorated with Flower Towers making this place more attractive to tourists and citizens.
The park is also worth seeing due to the castle of Dewin-Biberstein Family from 13th century. Among green avenues, you can find a charming fountain and numerous remains after old years.
Zary is also famous for Woodstock Festival that was organised in years 1997-2003. This huge event was visited by over 1,5 mln people from around the world.
Problem

Greyness around the monument

The unattractive park

Unattractive entrance
An ordinary town square
The heart of Zary, the old market, is a square-shaped place with a town hall and historic architecture. There is the famous bench with a figure of G. P. Telemann and a modern fountain which arrangement decided about the final effect. All of them needed a floral decoration.
Streets around the town square were also without nature. No access to the natural ground didn't allow for flowerbeds and a small space limited possible arrangements, just like in the case of the entrance to the town hall. The fountain the park also required some improvement.
Solution
Several models H1200 have been located in strategic places in the centre of Zary. Some of them have appeared in the streets leading to the town square, and the rest has accentuated the features of the fountain and the monument. Such decorations have added flowers to these places.
Models H1200 ½ have been the best choice for the entrance arrangement. They have created a kind of floral gate to the town hall.
Four huge Flower Tower have appeared in the park next to the fountain.
Google Street View
See Żary in flowers