population 19 275
civil rights since 1430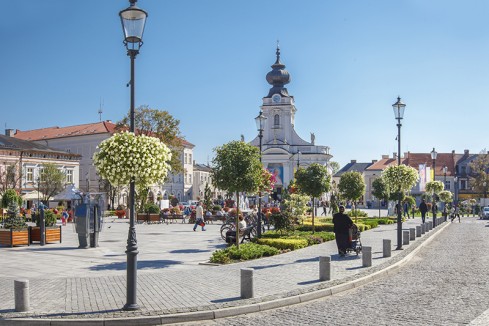 There is a small but famous town in southern Poland, near Cracow. Wadowice, because that's its name, it's a unique place visited by a lot of tourists. The municipal authorities of this family town of John Paul II are aware that keeping the image as the trim and beautiful area is one of their main tasks.
The most crucial points are decorated with flowers every year. In summer Flower Towers adorn Basilica of the Presentation of the Blesses Virgin Mary and the John Paul II Square. The standing constructions stand near benches, a fountain and the monument of the Pope. The hanging ones are fixed on lamps.
The choice of Flower Towers is only a halfway to the successful arrangement. The best effect is given thanks to the flowers. The kind of flowers, chosen by the municipal authorities of Wadowice, has been adjusted to the colour scheme of the surroundings.
Even such representative places as the John Paul II Square in Wadowice require floral decorations. Insufficient amount of place and the lack of the natural ground aren't obstacles to that!
Problem

No access to water

Empty space

An ordinary square

Monotony
The old market and the square are the two most representative places in Wadowice. Despite the buildings in a good condition and urban furniture, the square seemed to be monotonous and empty. The surroundings of the basilica and the monument weren't decorated. White and grey dominated in the urban space.
Solution
Flower Towers occurred to be the best solution. Colours came back to the town square, and the citizens were close to the nature. The constructions appeared near the two main points of this place.
The chosen flowers matched the shrubs around the square. The lamps were decorated with models W600. The urban space of Wadowice was well prepared for the summer.
Google Street View
See Wadowice in flowers