population 2797
civil rights since 1290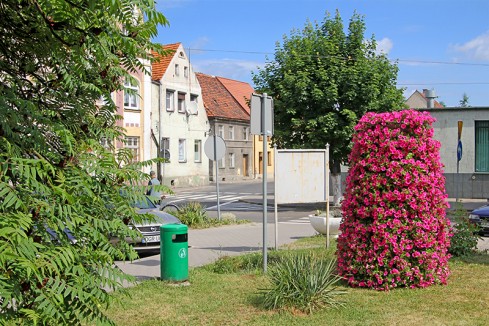 Wąsosz is a town near Poznan. It's located among beautiful forests and meadows. The town and the territories around are regarded as the Protected Area of Barycz Valley. The centre of Wąsosz is interesting too. There is a rectangular town square full of tenements with various facades. Such dynamic architecture creates a special atmosphere.
During the renovation of the centre of the Wąsosz centre in 2012, the models H2400, H750 and H1200 of Flower Towers appeared in the old market. The constructions were planted with colourful flowers by the specialists from Terra.
The models H2400 planted with purple flowers were located near the sundial, the gift for the citizens of Wąsosz from the friendly Dutch municipality Meerlo-Wanssum. Also other constructions with white flowers appeared in the square.
Monuments are the places worth accentuating. In such places as the square in Wąsosz, the problem was monotonous surroundings which didn't correspond with the decoration. The ordinary centre of the town can be changed in an effective way.
Problem

Greyness around monument

Monotony

No access to water

Unpopular place
The square in Wąsosz with the sundial didn't look impressive. It seemed to be unattractive, however with a big potential. Elegant but rather not special areas required interesting elements that could accentuate the charm of this town.
The crucial problem for the municipal authorities was the arrangement of the space near the sundial. Another complication was providing water to the urban plants. Due to the location of the square, it was necessary to find a solution to reduce the frequency of watering.
Solution
The centre of Wąsosz was aesthetic but lacking in nature. In the result, this area seemed to be unattractive and monotonous. In order to improve this situation without planting the flowerbeds, the municipal authorities decided on the Flower Towers with various kinds of plants.
The application of constructions allowed to eliminate the problem of watering the plants in the centre. Due to the patented cascade system, the watering could be also reduced without giving up the floral decorations.
The town square could be changed into more attractive, harmonized place thanks to the Flower Towers of different size and with various flowers. In this way the green surroundings became pleasing to the eye and the sundial got an appropriate decoration.
The project of planting in Wąsosz required from us the combination of creating the place for flowers and arranging the area around the sundial and the centre. We managed to do all these tasks thanks to Flower Towers of different size.
Google Street View
See Wąsosz in flowers